Sapa, with its mercifully cool climate, became a holiday escape for French colonists, complete with rail connection, upscale hotels, and a tourist bureau as early as 1917. The outpost was retaken by the Vietnamese in 1950, attacked and destroyed later by the French, and left in ruin, only brief occupied by Chinese troops in 1979. The town reopened for tourism in the 1990s.
Now connected by luxury train with Hanoi, Sapa boasts good accommodations and is a great jumping-off point for trekking and ecotours. Even a 1- or 2-day trip, bracketed by overnight train journeys from Hanoi, will give you a unique glimpse of local hilltribe culture. Trek out to nearby villages with or without a guide, or meet with the many hilltribe people who come to town to sell their wares.
By this tour, we do also our responsability to local peoples:
Small group: We limit our group to a maximum of 10 persons, our members are informed on how behave while trekking and staying there with the locals.

Local guide: They were born in Sapa and have learnt from the development of this town, they speak English, Vietnamese and the tribal languages like Hmong and Dao so as for the bridge of the locals and tourists. We sometimes work with the Hmong and Dao to be our tour guides, especially when we support the work of the locals.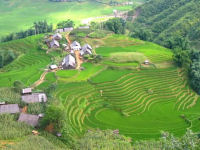 Homestay: We spend one night in the Dao village (Ta Phin) and one night in Sapa, we pay them directly on each trip and our travelers have chance to learn so much more about their culture and customs. Rotation of families for homestay in Ta Phin Sapa is at our priority since this really makes everyone in the village happy and willing to do tourism.

Local food: As soon as we come to the homestay, we ask the Dao in Ta Phin to cook dinner for us, they will use their homemade vegetable, fishes, chicken for our delicious meals. So our money stays here.

Environment: We train our guides while trekking and visiting Taphin village in Sapa, we pick up trash when possible to make the village clean and to set the example to others, we also put the environmental awareness in our conversation with the locals so that they can do it themselves.